Welcome to our Photo Album. We have combined our Ranch and a few Carolina Mealcake Pictures Together. No part of Tri S Ranch or Our Carolina MealCake may be reproduced in any way, or by any means, without prior written permission. All Rights Reserved.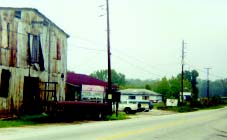 Office for Horse Trails and Boarding Stables
Trail Ride Office (on the other side of the old two story warehouse with a red top) BEFORE it was tore down by highway department. From this location Our Gateway led to one of South Carolina's larger Horse Trail Systems. Tri S Ranch Trail's account for nearly 20% of the Horse Riding Trail's in South Carolina. Behind this office was the Gateway to Lake Russell Lake. We are adding a over night layover at one end of the trail. Time to reach this area is 5 to 6 hours one way. Located near the Lake Russell Dam, just off the trail onto private land and a stones throw from the lake. (You will need a valid South Carolina Fishing license to fish here.) We have been working hard to improve the area on this end, while the Highway rip's up the other end. What you see in this picture is gone. Sorry for the delay..